Do you like playing games that involve waiting, for days possibly, in order to get more powerful?  Do you like the challenges of going up against others in games of thought, particularly laying out a military base that is designed to kill all invaders?  How about the offensive, where planning an attack is as simple as ordering up massive numbers of basic units, or as complex as learning how to compliment different troops?
Clash of Clans is one of those mobile games that I spent a many a moon avoiding, casting it off as another one of those Farmville type games with no point.  Well, Clash is not "just" one of those games.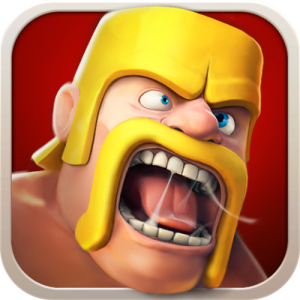 While Clash centers around that "wait today, win tomorrow" method of mobile gaming (I just waited two days on my town hall to update), it manages to fill in the gap with the ability to war with NPC goblin encampments, other players, and through your involvement in a clan, clan warfare.  The name of the game is resources and trophies.  Resources to build and trophies for bragging rights.  The more trophies you obtain, the higher up the ranks go.  The higher the ranks you rise, then your opponents become more and more difficult.
The game has four different resource types.  Gold builds buildings and walls, elixir builds life and buildings that train soldiers, dark elixir creates extra powerful creations and gems are the games special currency that you use to buy builders, special buildings, or faster build times.  Along with the resource types you are given a specific number of units to build for attacking and you may also create spells to attack your unfortunate enemies with.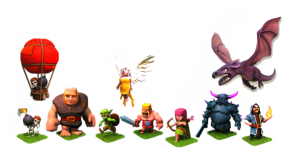 Each unit you place on the battlefield does a special job, and each job can make or break your army.  You can win by mass numbers much of the time, but as you grow, strategy becomes an integral part of success.  Another part of the gameplay is designing your base to withstand attacks by opponents.  There are some tricks, but it is difficult to really know if your defense is great since there is no test function.  Your base may very well look simple, or it may look downright scary to your attacker.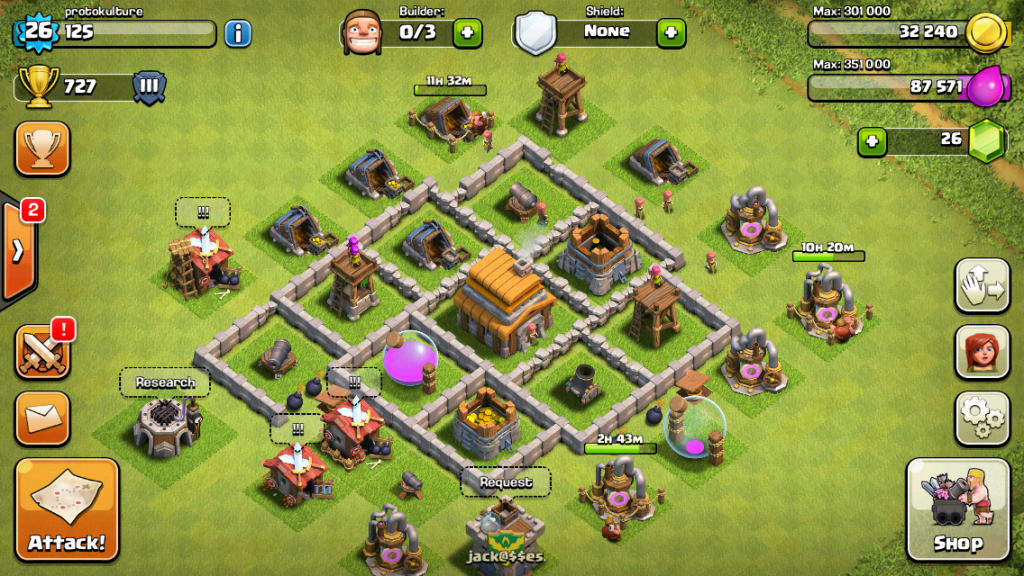 A nice feature about this game is that if you are attacked and you lose, you are placed under a shield for a certain amount of time.  This shield goes away if you attack someone.  This allows you to grow and enjoy the game and not get picked on because you suck at laying down a grid of defense.  I mentioned joining a clan earlier.  This is a big part of the experience.  In the clan you can donate troops to your clan mates and you can ask for donations.  This can get you some units sooner than later, however, you may want to hold onto those units for when the clan goes to war.  Clan wars are a three day affair.  You get one day to prep – donating troops, arranging your village, scouting your enemies, and talking in your clan chat channel to plan out the attack.  Then you have two days of war, where each clan member is expected to fight two battles and of course, win.  The implementation of clan chat on a mobile device makes the game that much sweeter.
Clash has a sickening following online, with over 32,000 reddit users subscribed to /r/clashofclans. There is an extensive wiki for the game if you like exact information and a whole boatload of videos of how to do certain things in the game.  I have two clans I am managing and my nephew got me into playing.  Will I play for long?  I'm not sure, but for right now, Clash of Clans gets a 5 out of 5 stars because Super Cell designed a game that captures what a phone can do.  If you really want to have a game that doesn't require all of your time, but definitely gives you the option to spend a lot of time if you want, then Clash of Clans is for you.