Believe it or not, some of the best written humor is found not on a comedy website, but instead, on the monolithic online department store, Amazon.  That humor is found in the review section for certain products and it seems the more mundane an item, the funnier the review.  For Example: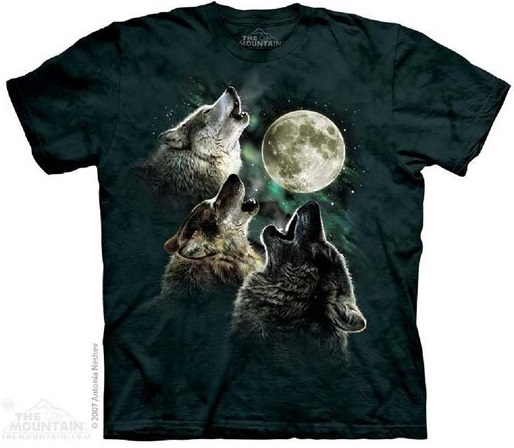 By Amazon Customer on November 10, 2008
This item has wolves on it which makes it intrinsically sweet and worth 5 stars by itself, but once I tried it on, that's when the magic happened. After checking to ensure that the shirt would properly cover my girth, I walked from my trailer to Wal-mart with the shirt on and was immediately approached by women. The women knew from the wolves on my shirt that I, like a wolf, am a mysterious loner who knows how to 'howl at the moon' from time to time (if you catch my drift!). The women that approached me wanted to know if I would be their boyfriend and/or give them money for something they called mehth. I told them no, because they didn't have enough teeth, and frankly a man with a wolf-shirt shouldn't settle for the first thing that comes to him.
I arrived at Wal-mart, mounted my courtesy-scooter (walking is such a drag!) sitting side saddle so that my wolves would show. While I was browsing tube socks, I could hear aroused asthmatic breathing behind me. I turned around to see a slightly sweaty dream in sweatpants and flip-flops standing there. She told me she liked the wolves on my shirt, I told her I wanted to howl at her moon. She offered me a swig from her mountain dew, and I drove my scooter, with her shuffling along side out the door and into the rest of our lives. Thank you wolf shirt.
Pros: Fits my girthy frame, has wolves on it, attracts women
Cons: Only 3 wolves (could probably use a few more on the 'guns'), cannot see wolves when sitting with arms crossed, wolves would have been better if they glowed in the dark.
---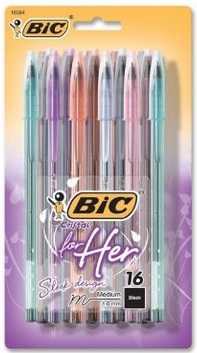 By Tracy Hamilton on August 24, 2012
Someone has answered my gentle prayers and FINALLY designed a pen that I can use all month long! I use it when I'm swimming, riding a horse, walking on the beach and doing yoga. It's comfortable, leak-proof, non-slip and it makes me feel so feminine and pretty! Since I've begun using these pens, men have found me more attractive and approchable. It has given me soft skin and manageable hair and it has really given me the self-esteem I needed to start a book club and flirt with the bag-boy at my local market. My drawings of kittens and ponies have improved, and now that I'm writing my last name hyphenated with the Robert Pattinson's last name, I really believe he may some day marry me! I'm positively giddy. Those smart men in marketing have come up with a pen that my lady parts can really identify with.Where has this pen been all my life???
---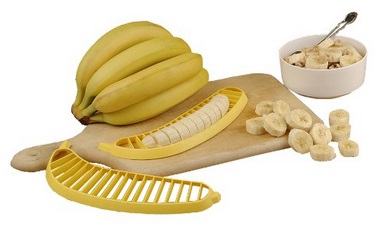 By
For decades I have been trying to come up with an ideal way to slice a banana. "Use a knife!" they say. Well…my parole officer won't allow me to be around knives. "Shoot it with a gun!" Background check…HELLO! I had to resort to carefully attempt to slice those bananas with my bare hands. 99.9% of the time, I would get so frustrated that I just ended up squishing the fruit in my hands and throwing it against the wall in anger. Then, after a fit of banana-induced rage, my parole officer introduced me to this kitchen marvel and my life was changed. No longer consumed by seething anger and animosity towards thick-skinned yellow fruit, I was able to concentrate on my love of theatre and am writing a musical play about two lovers from rival gangs that just try to make it in the world. I think I'll call it South Side Story.Banana slicer…thanks to you, I see greatness on the horizon.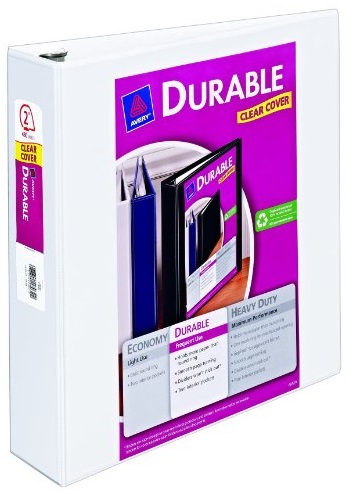 By Sabriel on October 17, 2012
Maybe it's just my women, but they don't seem to want to fit into the space I've designated for them in this binder. They keep sticking out over the edges, even getting away in some cases. I thought using clear, glass-ceiling page protectors would help, but it doesn't seem to slow them down anymore.
I'm going to have to resort to more severe three-hole punching, to keep my women in line. And maybe switch to the Trap Her, Keep Her.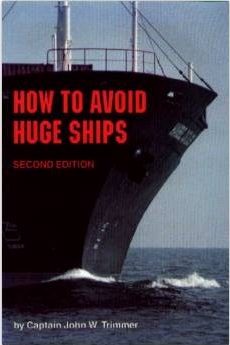 By Noel D. Hill on February 20, 2011
As the father of two teenagers, I found this book invaluable. I'm sure other parents here can empathize when I say I shudder at the thought of the increasing presence of huge ships in the lives my children. I certainly remember the strain I caused so long ago for my own parents when I began experimenting with huge ships. The long inter-continental voyages that kept my mom and dad up all night with worry. Don't even get me started on the international protocols when transporting perishable cargo. To think, I was even younger than my kids are now! huge ships are everywhere and it doesn't help that the tv and movies make huge ships seem glamorous and cool. This book helped me really approach the subject of huge ships with my kids in an honest and non judgmental way. Because of the insights this book provided, I can sleep a little better and cope with the reality that I can't always be there to protect my kids from huge ships, especially as they become adults. I'm confident that my teens, when confronted by a huge ship, are much better prepared to make wiser decisions than I did. At the very least my children certainly know that they can always come to me if they have any concerns, questions or just need my support when it comes to the topic of huge ships.
I know what most of you are thinking: Why would I bother sending 91 of these little guys in exchange for just one? Let me assure you that this is no ordinary nickel! After ordering my item, I found I couldn't sleep at night; I couldn't even eat because I didn't know what year my nickel was from! Would I get the 2003 nickel as promised? Would it be an antique nickel? Would it be a nickel from the future?
As it turned out, it was from 2003… but the CHANCE that I could have recieved a future nickel was worth the money!
Oh, future nickel, I'll have you yet…
By Kyle Kruczek on March 25, 2010
Alone in my dark apartment, having worn my 3 Wolf Moon T-Shirt as well for countless weeks, found this book to be my bible. I sit at my dining room table, playing World of Warcraft night after night, sobbing silently for want of notice by another human being. Pizza boxes piling up, chinese food leftovers filling my fridge, I was beginning to run out of options. I recently lost my job as a Custodial Consultant for sniffing the amonia in the utility closet. My funding for my gourmet meals from such world reknown chefs as Boyardi and Uncle Ben had begun running low. Stumbling in a drunken daze through the local bookstore, my elbow carelessly knocked a book onto the floor as I turned a corner. As I peered down, I saw the title, "Microwave Cooking for One."Curiously, I picked it up and decided to have a a quick read. As I began flipping through the pages, I began to see that this was no ordinary cookbook. No my friends, this was a book passed down from the Gods themselves, displaying the infinite beauty of their messenger Marie T Smith on the cover. I knew at that moment, that this book would change my life. I purchased it with the last few dollars to my name and brought it home. Because of this book, I now eat like a King. Filet Mignon? Chicken Alfredo? Caviar? Its all in there. Not only do you never need to buy another cookbook, there will never be a book so beautifully written ever again. From that point, I ahve divided my life into two different categories, life before Microwave Cooking for One and life after, much like the Old and New Testament.From this book I have made more friends than I can count, gained 30 pounds of rock hard muscle, and have a new job as VP of a major financial holdings company. This book worked for me, and I am sure it will work for you.
By Paul Nord on January 14, 2013
██ █ ████ everything ███ █████ is █████ ████ ████ fine ████ ███ █ ██████ love. █████ ███████ ███ your █████ ████ government.
---