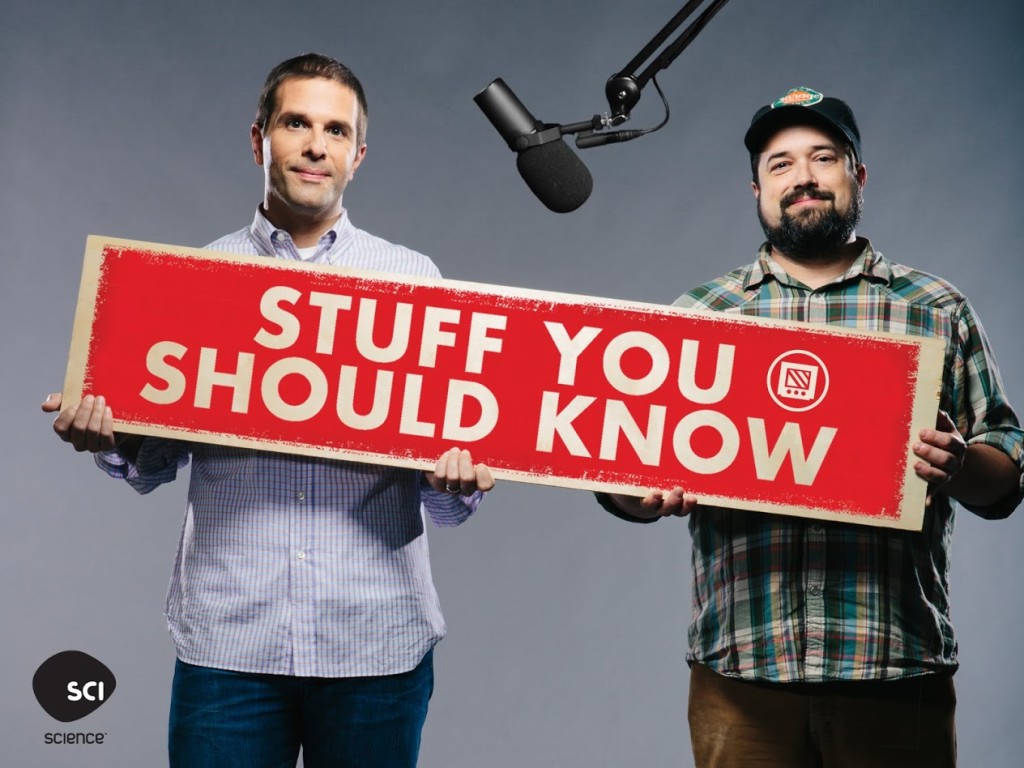 Call me a nerd, but I love an educational discussion that explores different topics.  Stuff You Should Know is the podcast that got me into listening to podcasts almost exclusively.  A factoid podcast that explores a different subject each episode, SYSK offers in depth discussion into topics varying from How the La Brea Tar Pits Work to How Avalanches Work.  I try to keep up with their podcast, and I can honestly say that every subject is interesting, no matter how boring they may seem (Microlending anyone?).  Each episode runs, on average, 30 minutes, but occasionally they may fall shorter or run longer.  Hosts Josh Clark and Charles W. Bryant are both endearing speakers who manage to make every topic feel personal and enjoyable.
The podcast is clean and has great production quality.  The sound quality is enjoyable and the content is always solid because the guys manage to put together resources, pulled mainly from their mother site: How Stuff Works.  The podcast has grown so much so, that they have a fancy pants website that has a lot of extra information besides podcasts, and they have also been involved in their own TV show which netted the duo ten 30 minute episodes on the Science channel.  I have not watched their TV show, but if they put similar effort into the show, it is probably spectacular.  In fact, I am putting the show on my to do list now.
The podcast also acknowledges its fans and responds, on each show, to certain E-Mails about previous episodes.  They also have episodes where they acknowledge fans who have sent them gifts.  They have built quite the community, and while I find How Stuff Works to be an interesting site, it is nowhere near as interesting or as fun as SYSK.  Even though Clark and Bryant are both senior writers for How Stuff Works, their knowledge and abilities are more noticeable in this podcast.  This podcast is a great example of how far great production value can take a podcast, and it makes me nervous for when Just Chill Here starts its own podcast.
If you want to be educated, get a giggle, and get interested into researching further into various topics, Stuff You Should Know is a podcast you simply cannot pass up.  It's clean and there are teachers that let their students listen to certain episodes.  As a teacher, I may touch on a topic and let my students listen to a podcast or two, but I am a bit iffy on that because middle school may not have the attention span for a radio show.
If you find yourself a fan of the podcast, don't be afraid to head over to their site.  The information they share there is interesting, with reading lists for the week and top ten lists on certain topics.  They also add some supplementary summaries to each podcast. Hell, you may even want to buy some of their merchandise!