Well, a short film, on YouTube, but I still count it as a movie I suppose.  We will be actually shooting my scene, along with Mike's and his daughter's (The day of filming will actually have taken place on Saturday, July 12).  The whole idea behind this film is straight from a friend of mine named Patrick.
I met Patrick when I was a young man who first stepped into his first real job at the humble guild or gastrointestinal goodness that is Burger King.  Patrick was a porter there, and he was a bit of a strange duck with his pink hair and hippy talk.  We parted ways a long time back, he went to the world of cinema, I became an employee of Holsum Bakeries, the fine corporation responsible for almost ridding the world of Twinkies due to poor management.  That's a bit off topic, however.
Patrick introduced the Facebook world to Porch Swing Productions, his production studio for his short film projects, not too long ago.  After speaking with Patrick, I decided that it would be an awesome experience to share with the Just Chill Here audience.  Below, you will read about an experience that I have never experienced, and thanks to my old buddy, I got to act and be a part of something that may actually go viral.  I also told Patrick that I would not expect payment, but I was going to milk him for exposure to this site.  I'm dirty like that.
---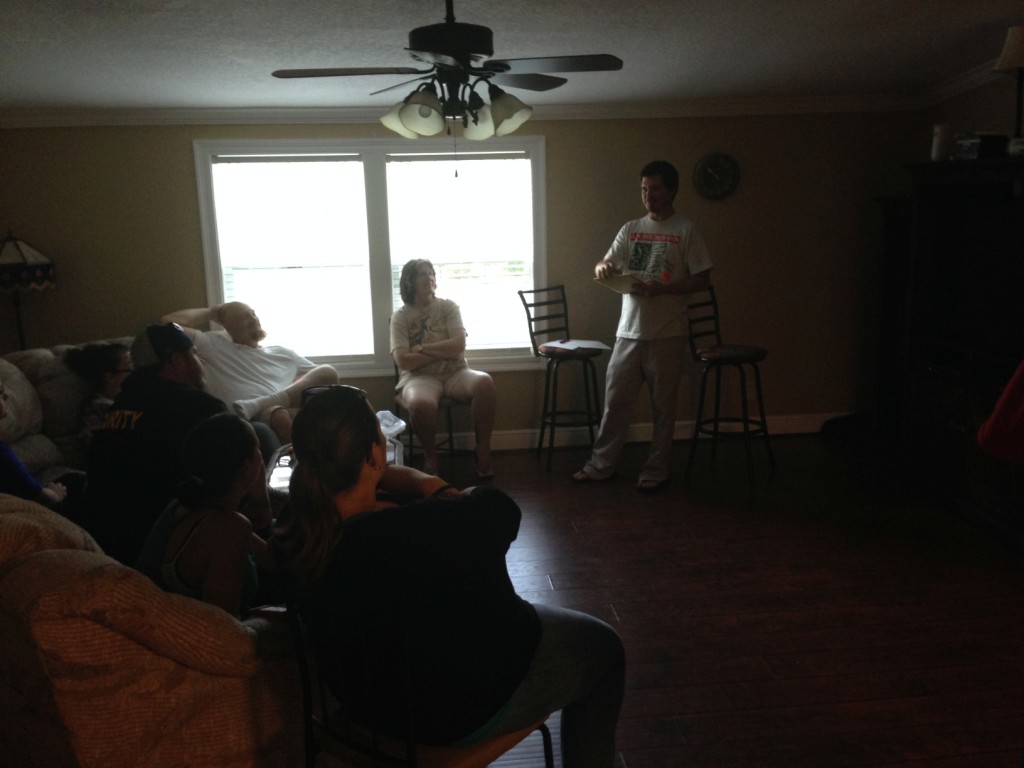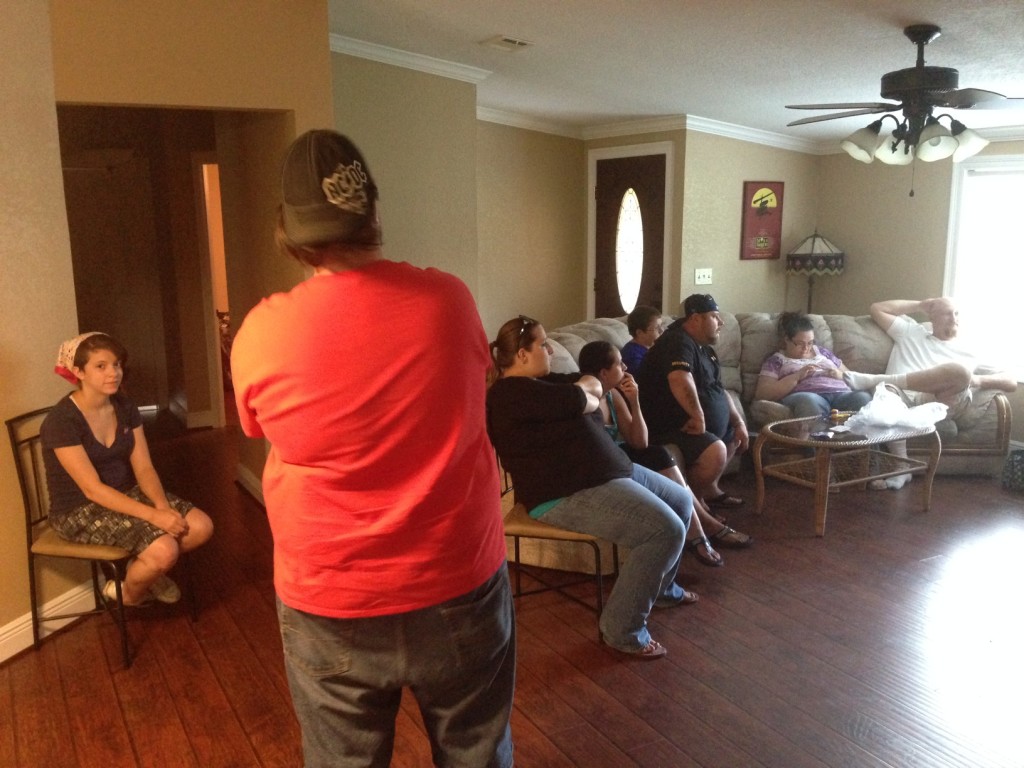 On July 5, 2014, we paid a visit to Patrick who was having his first casting event.  We showed up, we shook hands with some folks, and we talked about the script he flipped for this project.  He even went so far as to feed everyone some pizza, which I thought was great, since folks are volunteering their time.  The first day was just discussing the movie and getting ideas of the camera angles and what things were going to be happening.
Apparently, my rugged beard landed me the role of a guy fighting off zombies with a shovel.  Mike, Hailey, and another lady who I don't know yet, will be attacking me.  I won't delve into the details to spoil the film, but I think it will be a pretty cool looking scene.  Fortunately, I won't have to be sitting still having a bunch of makeup applied to my mug.
---
Patrick's wife, Kathryn, is in charge of makeup and during the past week, she has been practicing her makeup skills.  Patrick posted these images on Facebook as samples of makeup, asking for opinions on which ones looked better.  On film, these infected wounds looked rather satisfying.
Take a look at these babies.  These festering zombie wounds are looking pretty tight.  I chose Figure 1 because this project is on a budget of both very limited time and money, but Figure 2 looks absolutely rad.  It looks better than all of the makeup from the Zombie Land TV series.  I think our makeup artist knows a little bit about makeup.
---
This past Saturday, we were planned to meet at Patrick's house at 4:00 AM to allow for makeup and costuming, scene set up and the like.  The time was moved to 1:00 PM, which was awesome, because who wants to get up that early.  The film is going to be taking place in the late evening, I guess a couple of hours before dusk, but the fact that it is a short film about zombies, taking place during the day, and not a single scene at night, kind of surprises me. Doing this in the day screams confidence in makeup effects.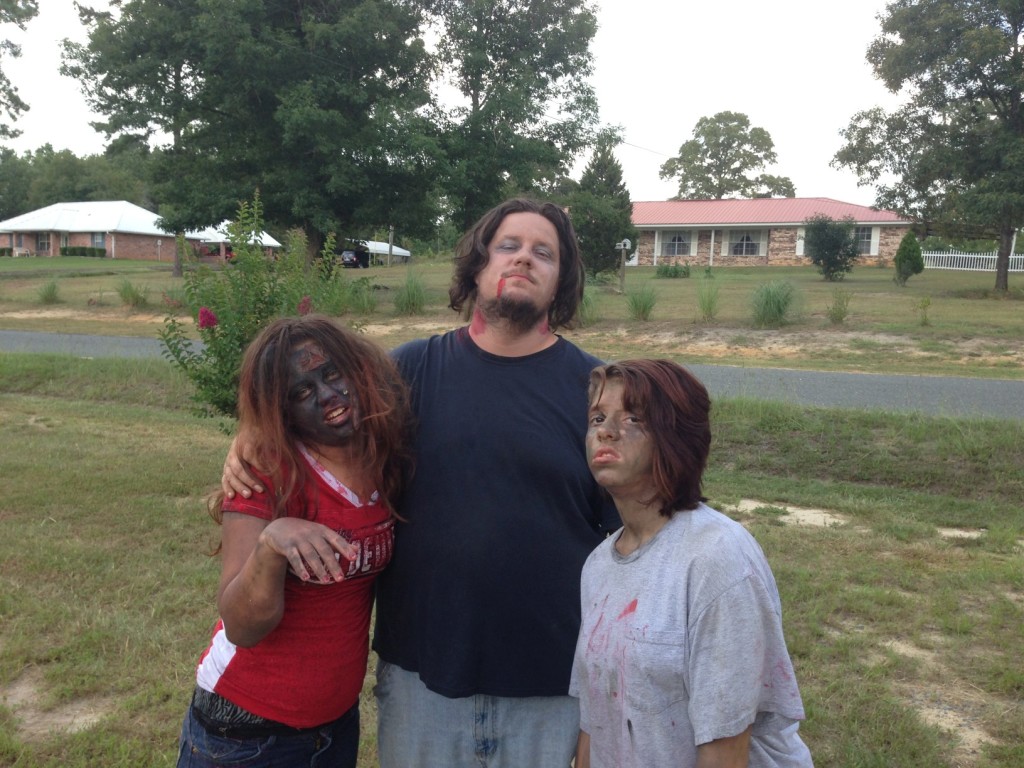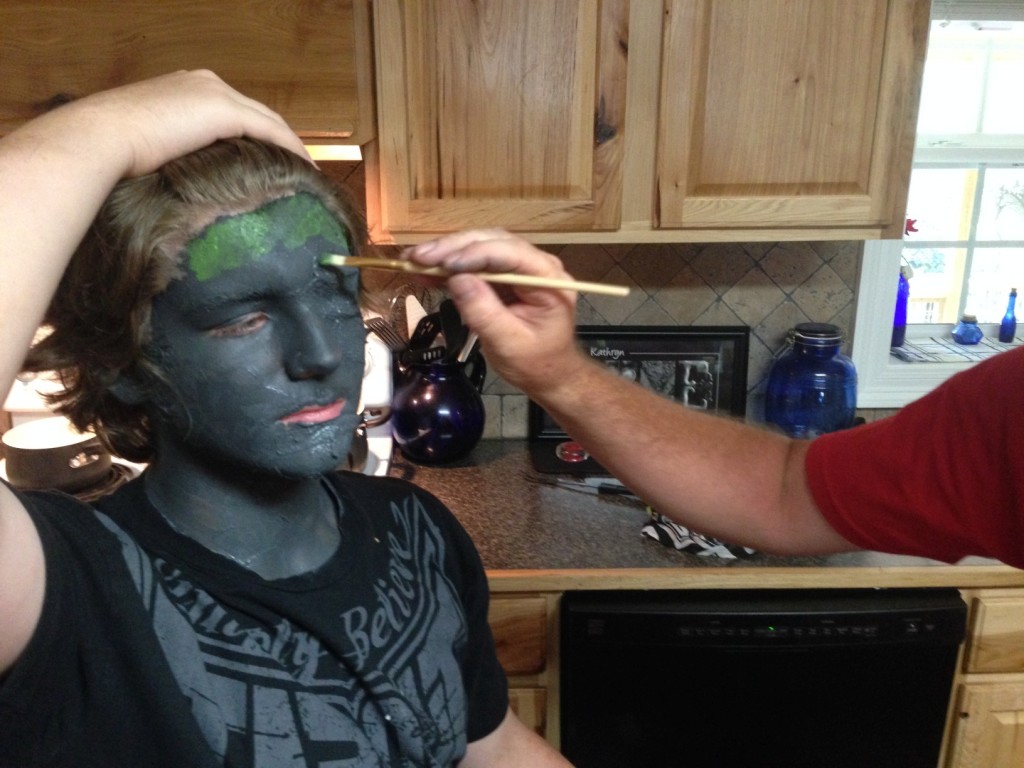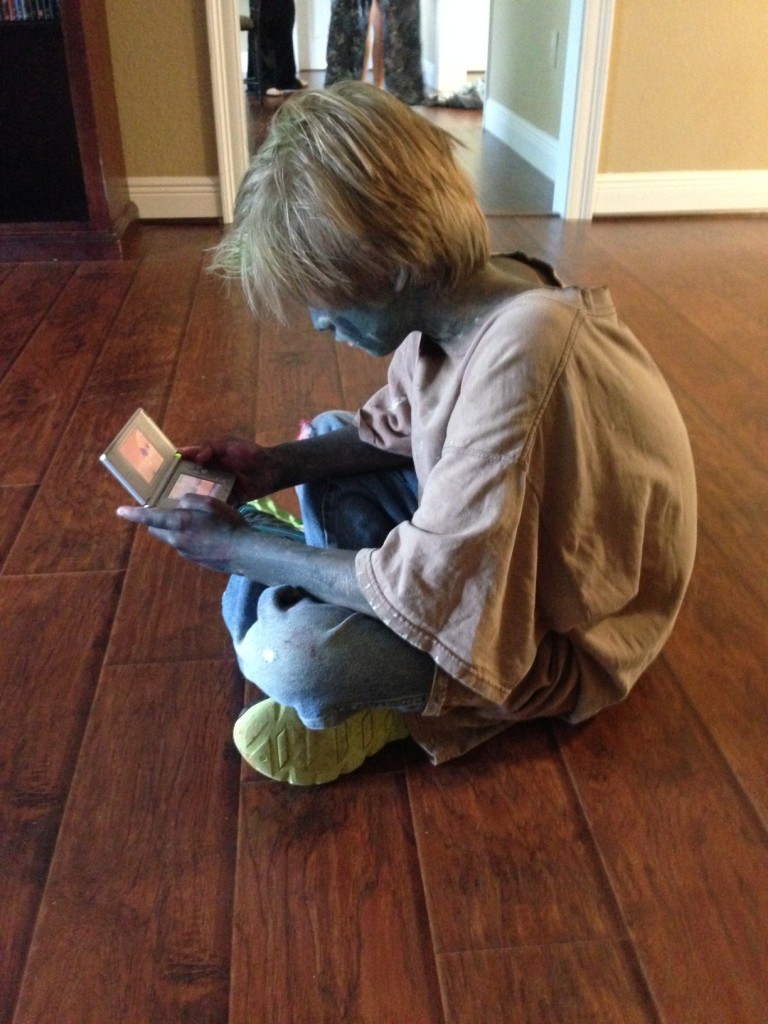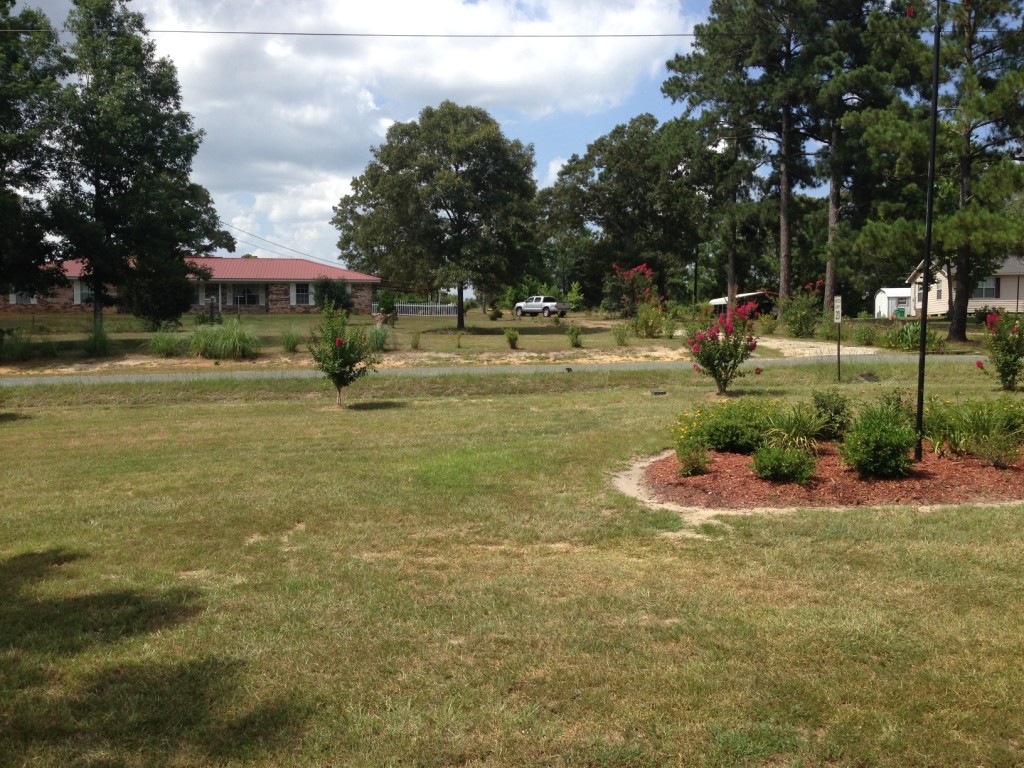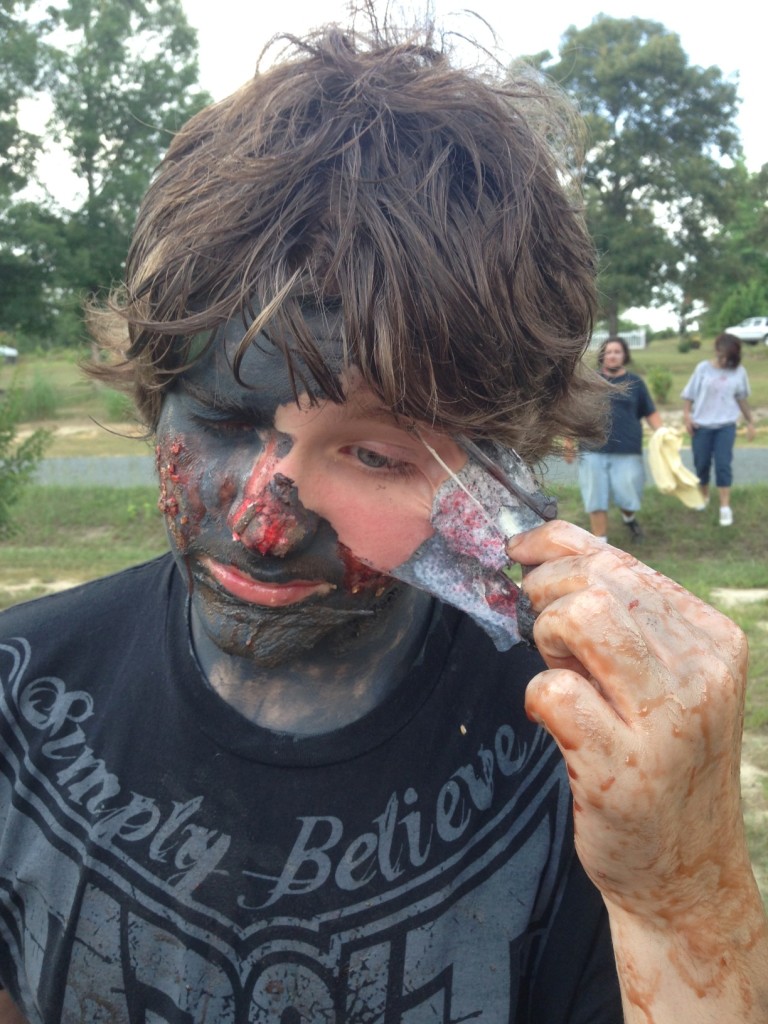 I attempted to bring my HD camera but apparently the battery in it died.  I would have taken some videos of some behind-the-scenes shenanigans.  We had a blast prepping makeup and learning ways to apply it.  I think we did a great job for the resources available.  We were supposed to have a few more people, but they ultimately decided not to show up.  We were down a makeup artist, and several actors.
Luckily the Just Chill Here crew was able to make it to the scene with some extra hands.  The day had several issues that I was happy to see Patrick overcome:
The original run of actors at casting did not show up, which was a bit aggravating.
The time changed because the makeup artist did not show up.  She ultimately never showed.
We had a thunderstorm incoming, though it never came to fruition, it was a possibility.
We were running very low on makeup, mainly because our not-makeup-designers were using it a bit heavily.
It worked out, now we just chill here and wait while Patrick films some final scenes, learns how to work his new software, and finishes post production.  Best of luck to you, Porch Swing Productions, we were glad to help!