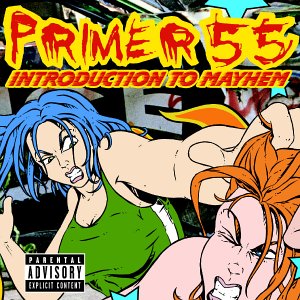 Released: January 25, 2000
This album is a reissue of their 1999 EP As Seen on TV
Recorded In: Airmont, New York and Stamford, Connecticut
Genre: Nu Metal
Length: 51:15
Label: Polygram
Producer: Tom Salta and Eddie Wohl
I am a man of varying tastes and after a hard day of working, I like to rage out and get some of that good ol' stress out of my system.  Sometimes this involves listening to violently loud music.  Primer 55's Introduction to Mayhem is one of the albums I have acquired over the years that serves this purpose.  This album is chock full of that fast paced, rhyme induced, screaming Nu Metal that people loved around 1998-2001, and now hate for some reason.
There is some strong language below, if this bothers you, don't read further.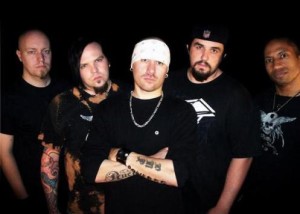 I was introduced to Primer 55 through a soundtrack album.  It was an album of songs associated with World Championship Wrestling, and Primer 55's track, Get Loose, was the premier song of the album.  This song led me to seek out Introduction to Mayhem, and I am glad I did.  If you respect loud music with an interesting beat and a ton of violence and explicit content, you should be very comfortable with this album.  I can't say as much for their other albums, but I will say this album is their best.
You Spotify heads out there can look them up if you can't procure the album any other way, and if you want to give them a good listen.  When you listen, pay attention to the bass (Mike "Jr." Christopher) and the drums (Josh McLane).  The guitar work (Bobby Burns) is a bit generic, it falls into line with a typical Nu Metal band.  The vocals (Jason "J-Sin" Luttrell) are absolutely insane and chaotic.  Their DJ (DJ Kilmore) also does pretty good work for them as well..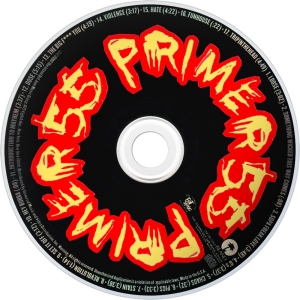 Songs of Note:
Loose – The very first track of the album sets off this excursion with pure power.  "Watch these fucker's jump when I get loose" may seem like a rather crude line, but when it is yelled to the music, it's very powerful.  The music never loses its fast pace and it simply sells the idea that crazy shit is about to happen.
Supa Freak Love – The song starts off slow and generally calm.  IT sounds like a gang banger's love ballad, but it turns chaotic quickly, focusing around how he wants a freak.  The cadence of the music is impressive here, just listen.
G's – Unintelligible screaming, yelling, great bass line.  It's perfect.
The Big Fuck You – This is absolutely the best song on the album.  the music paces itself beautifully and compliments the lyrics as J-Sin manages to trip over rhyme after rhyme only to kick the song off with the extremely loud chorus.  It's not a complex song by all means, but it succeeds at being metal as fuck.
Here are some videos for you to peruse.
Loose
The Big Fuck You