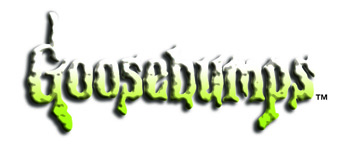 From 1992 to 1997, a series of children's horror books made it to my school's library and became a literary interest of mine.  The Goosebumps series by R.L. Stine was the center of my reading interest in my teen years.  An anthology of horror, the books may be goofy as hell to read now, but thinking about it, there were some situations in these books that were terrifying.  This was my first experience, not only to the plot twist, but my first experience to the overused idea that every story must have a plot twist.  I consumed these books like a book worm, they made me ravenous for more stories.  The series was so popular that it branched off to other successful series by Stine, and it even spawned a TV show.
The Goosebumps books sold over 350 million copies and for a few years, it was the best selling series in the literary world.  This is understandable, due to the sheer volume of new books that were being written during its golden years.  There were over 160 books published (Original series and the spin offs) within a decade.  I guess, with that many books, you've got to sell some.
I was not very interested in reading until I got my hands on Goosebumps.  I read the first book of the series, Welcome to Dead House, and suddenly reading was the best thing ever, even better than  video games.  I loved reading the books, they were easily digested and simple to follow, but they crammed words into my head and they were long enough to feel like I was reading real novels.  I read every single book in the original series.  I was the foremost expert in my community on all things Goosebumps.  I gave all my Goosebumps books away to some kids, hoping they would get into reading like myself.  They loved the books as well.
After going through college and being exposed to higher literature and some advanced writing courses, I tried revisiting Stine's classics, and I couldn't finish the book I was reading.  I realized that the books are not very well written, and they follow the same formula.  There are only so many different settings and the characters are all the same.  I can't say much negative about the series, because it's perfect for children to get into reading.  As an adult I say Goosebumps is a bit poor, but as a kid?  As a kid, the series is truly great.  Any books that are well enough to lead a child into a life of reading, through adulthood as well, are not only great books – they are perfect books.
I give every Goosebumps book from the original series (I never read the spin off material) a 5 out of 5 stars as a kid, and honestly, that's the only opinion that matters.  As an adult, I can read and enjoy writers such as George RR Martin and Stephen King simply because of RL Stine.
There are 62 books in the original Goosebumps Series!