I can't get the Sharper Image website to even acknowledge these Black Buetooth Headphones I own exist.  I have tried everything to find them there, but there is no model number, no unique name or a product ID.  Perhaps, after some tech savvy nerd sees this article, they may link this thing in a comment, but I doubt it.
This should be a red flag to you, the consumer, that if you see these: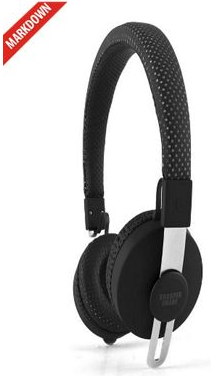 You need to run the hell away.
Well, that may seem a little harsh, but I will give you the stats from beallsflorida.com:  (This link will likely die one day, don't worry, you aren't missing much).
Wirelessly listen to music. The Sharper Image Black Bluetooth Headphones provide bluetooth wireless technology & on ear design for long time listening. Built in Mic allows you to have a phone conversation with up to 15 hours talk / 200 hours standby time. 7.25" x 2.5" x 7".

Imported
Wipe Clean
3.5mm Plug
Enhanced Bass
USB Cable
Metal
Plastic
They have Bluetooth that works okay, but synching could sometimes be an absolute nightmare.  The description says something about an On Ear design, but it's just regular headphones.  They are light and comfortable.  My ears never hurt from long times listening.  The idea of using these as a device to talk with is laughable.  They sound like shit and pick up too much static for the other person.
The range seems to be simple:  If your device isn't in your hand or pocket, TOO DAMN BAD CHEAPSKATE!  I don't know why being imported is a valid detail and wipe clean?  Well the phones are made of that plastic stuff, so they wipe off easily I suppose.  It can be both wireless and wired (You know, if you still have your Pokemon themed MP3 player).  Enhanced bass……..Get real.  It is definitely metal and plastic.  The way you adjust size is a bit crazy, as it leaves a small strip of metal jutting straight down.  They look rather silly.  I actually found these at a Ross or Kohls, whichever one of those outlets that women go to to buy cheap things that break.  That should give you an idea of the user experience.
These things are not very loud and forget canceling out any background noise.  They worked okay for the first couple of months, but then I noticed as I was working and moving quickly, the signal would go on and off.  This was when I stopped using them.  Not ideal for raking leaves and fighting off baboons.  Do I suggest these headphones?  Well, if you are having a hard time finding affordable wireless headphones, then these would suffice, but ultimately, you are going to throw these things out the window.
JCH Pros and Cons
CHEEEEEAP

Light and comfortable, no sore ears.

Batteries seemed to last forever

Pretty durable

Takes forever to charge

Not loud at all

No noise cancellation

What's the point of wireless headphones if you can get more range from a cord?

What's the point of wireless headphones if you can't chop wood while using them?

There are some controls on the phones, but they are so damn unresponsive and confusing to operate, there's no reason even mentioning them in the product details.