A good long while ago, I was laid up in bed trolling Netflix for my latest fix.  I found a documentary called Make Me Superhuman.  This video was about exoskeletons, a la the film Elysium.  This documentary stuck with me for a while and the idea of exoskeletons became amazing to me.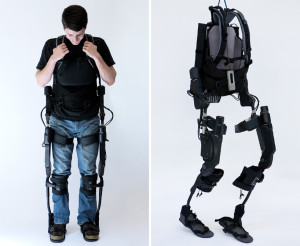 I was extremely happy to see this crop up in the science/technology world.  Daewoo Shipbuilding and Marine Engineering employed the use of 61 lbs frames made of carbon, aluminum, and steel that are operated by electric motors and hydraulic joints along with a three hour battery.  These suits allow workers to carry an extra 70 lbs, and they don't even notice the weight of the load or the exoskeleton itself, which moves with the wearer's natural motions.
The suit has more positive implications than just bearing a heavy load and keeping exertion low – it allows workers to manipulate heavy objects without the hassle of getting tired.  Dealing with large, heavy pieces of metal and trying to get them into a specific place is tricky, but with the suit workers can focus on the placement of the objects which is important for ship building.  The suits also have the ability to have small cranes attached to them, allowing workers to really get their lift on.  The company said their goal is to take the lifting capacity to over 220 lbs, which would be an amazing feat of engineering – especially if the suit bears almost 100% of the load.
While workers were positive about the suits, there are some issues that still need to be worked out:
More weight.
Able to move faster.
Better maneuverability on sloped and slipper surfaces
Being able to twist.
Deviating from the article, some things about exoskeletons that I have learned:
Batteries are the primary element of the suit that is holding the technology back.  Most packs only offer several hours at most, when we need suits that could possible last days.  Longer battery life would benefit those who work long periods from sources of power.
Exoskeletons exist from a necessity to address problems with paralysis.  Paralyzed patients have been testing exoskeletons for years and they generally love the suits, but are held back by batteries.
I don't think we will see exoskeletons like the ones in Elysium that are surgically implanted, but we may!  Surgically implanted technology is a common belief among certain scientists.  We will evolve through technology and not nature.