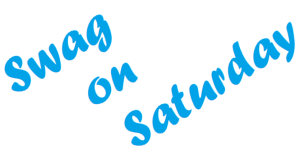 So, do you want to make a quick buck doing something that requires little effort?  Head over to Swag Bucks and peruse the Watch section of the site.  When you enter this area, you will be introduced to the service and once you scroll down you will see many categories like Editor's Picks, TV and Film, Recipes. Comedy, Health and many other topics.  The titles always change and the videos are constantly changing as well.  Why would you do such a thing?  Well…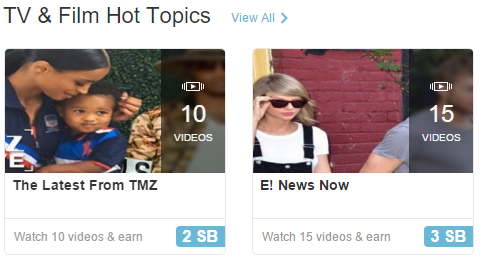 Above is an example of the watch page as it is on this day.  I have been on Swagbucks for a while now and this style has not changed.  Anyhow, look at the image on the left.  It has 10 videos to watch and if you mouse over the video you will get this little bubble: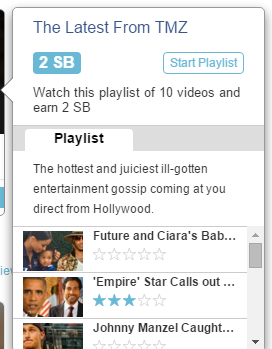 This bubble has extra information for you to peruse in order to get more of your interest.  However, we are not looking into videos, we are watching them!  Click the box and you will be taken to the playlist page and then you can watch all the videos you want.  Don't like a video?  Wait a minute to let the video check off and then go to the next video.  If you watch all the videos in the playlist (10 of them!) you will get two Swagbucks (SBs).  You can watch these videos while you do a manner of monotonous tasks like washing dishes or picking fleas off of your pet monkey.  You can get up to 500 SBs a day doing this, but I believe that is near impossible if you can't stop time.
Introducing the Swag Button

When you register for Swagbucks, you will be offered a chance to install the Swag Button.  Do that, and get the extra SBs that comes with it.  Once you install it into your web browser, click it and a window will come up.  Click the Watch tab and you can even watch videos from that extension!  Also, it has a much better return rate for watching videos at 1 SB per 3.33 videos (10 videos net you 3 SBs).  You can run this extension while watching videos on the site as well.  Warning, this may slow your machine down and it may be hard to pay attention to videos doing this.  There are other things to do with the Swag Button, but for this article, I will just discuss the watch options.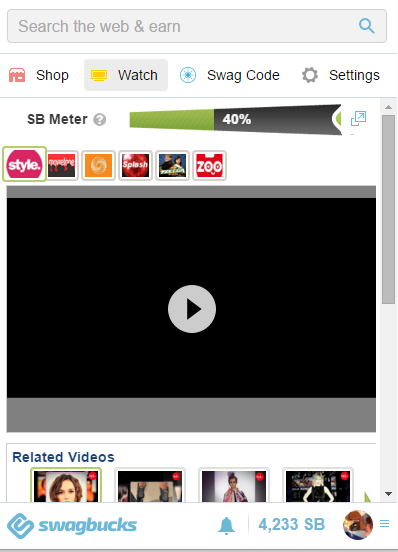 There is a lot of information to be gleaned from the Swag Button.  In the watch menu, you get a progress meter and a row of videos to click on.  Once you click on them, just stay on them until your meter goes up.  Sometimes videos don't work, but I have noticed if I wait, I still get credit.  Do not click off of the video and come back because the program will say you have already watched that video.
There are six categories in the Swag Button watch tab:
StyleEtc. – Not the most interesting videos ever, but if you like fashion stuff, this is good for you!
Moviefone – Do you like movie trailers and videos that share facts about films?  This is a good one for you!
Reuters – Video news is a good way to stay informed.
Splash – I think this is just a contemporary entertainment thing that has a variety of different videos to watch.
Tekzilla – All things tech.  Is interesting if you want to start jonesing for the newest electronic device.
Uzoo – Like animals?  This is one of my favorite groups of videos.  Lots of interesting facts!
The Inbox

This icon is the one used for the site's Inbox feature.  It's located at the top of the screen and as you may notice, my inbox is fucked.  It's full of deals and links that can net me extra SBs if I do the tasks they send me.  I always check my inbox because they often send videos to watch.  These have tremendous return with a 1:1 video to SB ratio.  Always check your inbox!  You never know what may be there!
Is It Worth It?
Getting a lot of SBs through videos is tedious and takes time, however, if you are just trying to get a few cents to meet a goal, the video option is great.  When I first started on Swagbucks, I almost exclusively watched videos and managed to make a couple of bucks a day.  I was passively watching videos all day as I did little tasks like grading papers and working on websites or playing video games.  If you think you will get rich doing this, perhaps Swagbucks is not the place for you, but if you want to make a few bucks to buy some wings for the next big party, then this is the thing.
Pros
Super easy
Can be interesting sometimes
Can stop and go whenever you want and you won't lose progress.
Cons
A slow computer does okay if you just stick with one thing, but the trick to making swags is doing multiple things.  Once you have multiple things going (Games, videos, encrave) you will swamp an older machine.
A lot slower than other options.
You have to click on every video, so that gets old.