This past couple of weeks has been a trying time for my little state of Louisiana.  We're out of money and politicians are fighting over tired ideas of cutting taxes and increasing taxes, cutting programs and getting rid of programs, cutting social programs and cutting expenses on improving state infrastructure with no honest view of a real plan in sight.
Therefore, I have taken it upon myself to do a little homework in an effort to predict the economic and industrial boosts the legalization of cannabis would bring to our state, while promoting the path to legalization before any other state in the south.  It is a lofty goal, but not my primary goal.  I've learned that the best plans come from just wanting to learn more about a topic.  I have a few things I want to answer as I work on this project.  I have no deadline for when I want to finish, but I will update as I feel I make progress.
My first step was to get a geographical image of Louisiana and surrounding districts (congressional districts) of other states.  The map is this: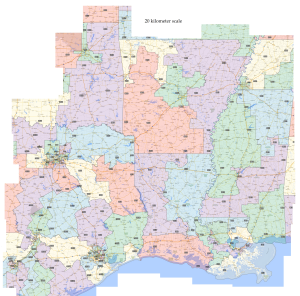 This map is not finished, but the stitching of an image like this is a task worth bragging about.  Next step is to wash out districts over 200-300 miles away from the borders of Louisiana, but I will keep whole districts, so AR-4 is going to stick out like a sore thumb, though I could just put more work into cutting it out in some manner.
Next step:  Identify districts that stay, and remove the unneeded sections.  This will then be followed by a spreadsheet used to record population numbers of our neighboring states.