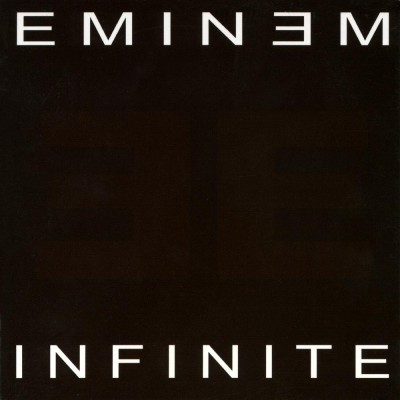 Released: November 12, 1996
Recorded from 1995 to 1996
Genre: Rap
Length: 37:54
Label: Web Entertainment
Producer: Peter Schorn and Mr. Porter
"The 'Infinite' album? I realise it's there, I did it, but I wasn't really experienced enough to know what to do in the studio. There was only 1,000 tapes pressed up of that shit. I think you can look it up on the internet and get it, and if you do, it'll be a bootleg."
-Eminem, 2000
I remember the day like it was yesterday.  The day that blue with white text WORLD PREMIERE splash screen popped up on MTV (When MTV played some music and MTV 2 played nothing but music).  It was the world premiere of Eminem's break out hit "My Name Is."  Of course, it was the clean version, and boy did we not know what we were getting into until we got our hands on the explicit version.  Eminem changed things about music, and at that time, he saved rap from..rap..
After hearing this amazing music, I and some friends decided to search what us old folks called Napster.  We learned that Eminem had an album previous to this album.  It was called Infinite.  We spent a bit of time completing the album and after listening to it, we learned immediately that Dr. Dre saved rap…from Eminem.  Infinite was like an explicit Fresh Prince and DJ Jazzy Jeff album produced by people holding up a cassette recorder.  After revisiting the album, and listening to it in better quality, I realized that Infinite had to be bad, but showed promise in a way that was unexpected.
Eminem is no slouch.  As a fan, I have read about his work ethic.  He would arrive to work on time and work for hours and hours to create his music.  During the filming of 8 Mile, he was there every day, and he worked hard at making sure he delivered.  His willingness to work hard ensured that he developed a rapping style and cadence that would be hard to follow.  This album is our earliest look at the studio version of Eminem, the version that is not battle rapping on the spot, but actually putting work into his music.
The successful humor that many welcome in his later works was forced in Infinite, often to a point where it feels uncomfortable.  Luckily, Eminem soon found the balance between funny and serious, along with some nicely mixed beats.  The music for Infinite is mostly forgettable.  You will likely never hear anyone hum a tune from this album, but I still hear people humming songs from the Slim Shady LP, which is considered his first real album.
Songs of Note:
Open Mic – Very energetic and has a decent beat to it.  This is a song that allows us to hear Eminem's signature rapping style.
Backstabber – Not a great song by any means, but it showcases Eminem's ability to rap a coherent "story" that flows easily.  The song uses some cheese ball sound files to add to the song, but, these are early signs of his use of messages during his songs that make them more memorable.
Jealousy Woes II – A song that brings together several great elements: Great writing, great rhymes, and great beats.
Eminem has even older music if you dare venture.
(Youtube links may go down.  That's the danger of Youtube!)