Delta Gamma, the largest sorority in North America with more than 230,000 members upped the bar with their recruitment video.  It has a catchy song and has nice production and filming.  Drones, yachts, city views, the whole video is insane and I want to join this sorority now.  Oh wait, I'm a dude.  The video approaches MTV quality music video quality.
The armed standoff is still going on at Malheur National Wildlife Refuge.  Apparently it's totally okay to overthrow federal buildings and to threaten the U.S. Government.  But some people look at the situation as the people taking their land back from the government.
Apparently #wastehistime2016 is trending.  What is that?  Well…
finally allow him to take you on a date then after have him drop you off at your other man's house #WasteHisTime2016

Tell him you're not looking for anything serious. Then get in a relationship the next week with someone else. #WasteHisTime2016

Hang out with him all day and then when you get home tweet, "damn today was hella boring" #WasteHisTime2016
So yeah, apparently it's just women devising ways to hurt men's feelings or something.  Not the most amusing things I've read.
Louisiana is trending with the Louisiana Fur and Wildlife Festival in Cameron, Louisiana.  It has pageants and of course, an animal skinning competition.  We play hard down here in LA!  There's a bunch of food to eat too!  It's interesting that this is trending right now.
This is really freaking cool.  Calvin and Hobbes mashed up with Star Wars!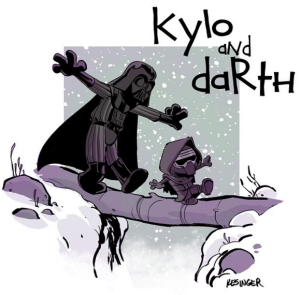 Proving its absolute power and bat shit insanity for TV ideas, Netflix has released photos of the new Netflix Original Series: Fuller House.  I'm not sure about this one, but I think I may give it a watch.
In Linda, California a 9 Year old boy was mauled to death by the three pit bulls he was left home with.  The child was in child protective services when this happened.  I am linking this page, not only for information, but also because the website didn't even get the right breed of dog in the picture.  (German Shepherds are not Pit Bulls!).  My opinion still remains the same – pit bulls should be a banned breed.
North Korea has tested a hydrogen bomb (allegedly) and we have pretty much told China that they need to do something about it.  Which is amusing, because I highly doubt China will ever listen to what we have to say.
The Supreme Court of Alabama has broken the law and has banned same sex marriage licenses.  Chief Justice Roy Moore is the judge who issued this ban.
Good news Time Warner Cable customers!  320,000 of you have fallen victim to theft of your personal information.
Flint, Michigan declares state of emergency over high contaminated water and Porter Ranch, California has declared a state of emergency over a three month old methane gas leak.  Both situations are terrifying and were completely avoidable.
Warsaw Zoo has a new giraffe calf and here are some photos of them caring for it.  Just say AWWWWWW!