Like so many other things that I write about and make great strides to sound like an expert, but am not an expert in, I cannot say that I know a great deal about the Ultimate Fighting Championship.  I have had an on and off relationship with the company and it started when I was relatively young.  Recently, however, my best friend has brought me to enjoy the events that they hold each month, with banners held high by a few famous fighters.  Currently my favorite fighter is a filthy looking, trash talking, cocky Irishman that everyone has a few nicknames for.  I call him Pig Pen, mainly because no matter what, he looks like he always needs a bath.  Dude looks filthy.  This article is about today's "Presser" which is a ridiculous word that has replaced the superior "press conference."  Apparently, Mystic Mac (Nickname for McGregor) had some choice words to say to his next opponent, Rafael Dos Anjos, the whateverweight (155 lbs) champion.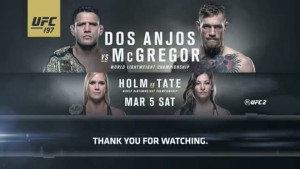 Impressions
---
That intro has an epic voiceover.  March 5th, deep voice, and Holly Holm vs Mesha Tate?  Meh.
I like how McGregor is late.
Dana said that McGregor is poised to be the only champion to have two championships in different weight divisions.  I thought he was the second.  Fuck if I know.
Apparently Holly Holm's victory over Rousey caused casinos to run out of money and people had to wait over an hour to be paid.  Those odds were absolutely foul.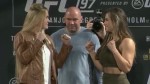 If Holm is the real deal, she will drop Tate with devastation,
The press is trying to bring out the rumors of Dana and Connor being at odds with each other.  They have to be.  Connor is a scaryily popular fighter in a company that is notorious for paying fighters shit wages.
I like how Connor apologizes for being late, but totally makes it seem like hes not sorry.
The reference that RDA is a "free TV" fighter is a strong jab.  Then the shit talking about Frankie Edgar's desperation must have stung for Edgar.  He had some kinder words about Nate Diaz.  This guy has no fear.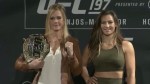 Connor proclaims he will fight in many weight divisions and has stated that he plans to be the champion at 145, 155, and 170 by year's end.  Big hopes.
RDA is a more humble fighter.  He calls Connor out for not putting the 145 belt on the line (Don't know if he can even do that).  RDA is kind of a boring guy at this presser for sure.
OMFG Connor just basically called RDA a South American Uncle Tom.  Holy shit what a jab.  Verbal knockout.   Jose Aldo is the real champion of Brazil because RDA ran away and learned the language of the oppressor.  Holy shit.  McGregor needs to go to WWE afterhes done fighting.
Wow, this guy asked Holly Holm why she would take a fight against someone as talented as Mesha Tate?  WTF kind of question is that?  And Holly, get some confidence holy shit.  TALK SOME SHIT.
RDA is a slower, sloppier version of Aldo and Connor calls a knockout within one minute.
Is wrestling the key to defeating Connor McGregor?  Maybe, if you don't get knocked out in the process of wrestling.  Connor then said that Cowboy lost to RDA because he gave up.
Holy shit, McGregor is staying steady on the personal attacks of RDA's heritage.  Why are his kids named Bob and Donald?  Why is he raising American Children?  Wow, I'm cringing.
I wish Cowboy Cerrone was fighting Connor.  This presser would suck less.
Connor is eating a lot of steak now that he doesn't have to cut a lot of weight.  Then he basically calls RDA a fat fatty.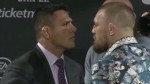 RDA is interrupted by Connor McGregor.  The question of size is raised and Connor is apparently taller with a longer reach than RDA.  I am ready for this fight.
Someone throw a can of Red Bull to these women.  They sound tired as shit.  Rhonda losing was the worst thing to happen to the UFC.
Connor said that him and Jesus are cool.  He said that he was cool with all the gods because gods recognize gods.  Don't ask fighters religious questions press people.  It's tacky.
I don't know the significance of Connor talking shit about Fabricio (SP) Verdun's gym.
Connor really wants to fight in Dublin and you can tell that he is kind of bummed out about the possibility of that never happening.
Connor has sworn off acting in the past, bit he is thinkng about CASHIN' DEM CHECKS!
Connor's belt is missing, and it gets addressed.  He doesn't know where his belt is.  Then he starts criticizing the posters hanging in the room?  This guy is all over the place.
Dana corrects his ass quick.  His belt isn't there because it is not on the line.
"Oh my, I just want the best for Rhonda and if she wants to act, that's fine.  I think she is great and Mesha is awesome and"….SNOOOOOOOOORE
When the press questions your nationality, you  got some face to save.
Rafael Dos Anjos brings the name of Brazil down, according to Connor.  Oh my fucking god this is beautiful.  RDA got pissed.  You can feel the anger.
Connor is officially fighting for Brazil now.  Wow.  Epic troll level reached.
Holy shit Connor McGregor just murdered-threatened Floyd Mayweather.  This guy is the ultimate in shit talkery.
And that about wraps up the press conference!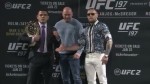 Support the site and go earn yourself some real money at Swag Bucks!